Sizing & Measurements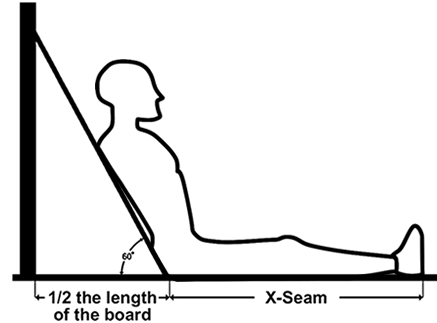 Illustration A
X-Seam: The Recumbent Trike Fitting Measurement
When purchasing a trike, we use a sizing measurement called an X-Seam. This measurement helps us to determine which size will best fit you. Here is how we you determine your X-Seam size.
Wear shoes you would typically use for riding. Sit very tight against the bottom of the board, lean back, and stretch your legs out straight with the soles of your shoes perpendicular to the floor. Measure the distance in inches from the front of board to the bottom of your shoe. This is an important measurement so have an assistant help you get an accurate number. See illustration A as an example. And if you have trouble, call us at 916-619-1003 and we would be more than happy to help.
Shipping
Most in-stock orders for the continental U.S. are processed with 3 days, and then shipped via a major carrier.
Once on their way, they should reach their destination within 5-10 business days depending on your location.
We deliver trikes throughout California. Call for ordering and pricing information.
Call for shipping price on trikes. Since trikes are shipped completely assembled in a large, oversized package, we choose to ship via FedEx Freight. This ensures your new trike arrives in perfect condition. Please be aware this does may take a few days longer than FedEx Ground but is well worth the wait. All trike shipments can be delivered Mondays through Fridays. Ask about lift gate service at residential addresses. Weekend delivery is not available. 
If the item or trike is not in stock, we are able to back order it for you. Please contact us for any special orders.
Accessories can be purchased straight from our online store if in stock. For trikes, please contact us to place your order.
Our business is operated from California, USA. California sales tax will be applied to all orders made from within the state of California or picked up in at our physical location. If we are shipping outside of California to a customer who orders from outside of California, we do not charge any sales tax.
Shop Policies
We love our customers and want you to be happy. If for any reason you are not satisfied with your purchase please contact us to explain your situation within three days of the purchase/ship date of your order. Returns subject to restock fees.

Applicable only within the continental United States. Customers are responsible for return shipping charges except in the event of a mis-ship from us. While we strive to process returns immediately upon receiving them, please allow up to 7 days for credits to post to your account.
Riding a bike or trike can result in injury or death. By riding any trikes sold by Laid Back Cycles, the rider is expressly assuming the risk for any injury that may result from same. The trike owner is responsible for any and all injuries and/or property damages caused by someone riding the owner's trike. The owner shall indemnify Laid Back Cycles for any damage or financial loss.
Most of the manufacturers warrants to the original owner that all its trike frames, seat frames, and steering components are free of defective materials and workmanship subject to the limitations contained in this warranty. This warranty is limited to the original owner and is nontransferable. 
Some models carry a 3-year warranty. Warranty is conditioned upon the trike being purchased through and assembled by an authorized dealer, operated under normal conditions, and maintained properly. Warranty does not apply to paint/finish or components attached to the frame. Attached components are subject to the warranty, if any, of their original manufacturer. Warranty claims must be presented to the place where the product was purchased whether that is an authorized dealer or the factory. Proof of purchase must accompany all requests for warranty coverage. Laid Back Cycles reserves the sole discretion to repair or replace any parts covered by this warranty. Replacement parts may be a newer version than those originally purchased. 
Original owner shall be responsible for all labor, shipping, and travel costs related to repair or replacement of warranted parts. This warranty does not apply to normal wear and tear, or any defects, malfunctions, or failures that result from abuse, neglect, improper assembly, improper maintenance, overloading past specified load limit, alterations (i.e. cutting, spreading, drilling, welding, etc.), collisions, accidents, or misuse.
Laid Back Cycles shall not be liable for any special, indirect consequential, incidental or other similar damages suffered by the purchaser or any third party, including, without limitation, damages for loss of profits or business or damages resulting from use or performance of the product, whether in contract or in tort, even if Laid Back Cycles has been advised of the possibility of such damages and Laid Back Cycles shall not be liable for any expenses, claims, or suits arising out of or relating to any of the foregoing.
If you feel you have a factory warranty claim, contact us. We love our customers, and we want to keep you riding.
IF YOU STILL HAVE A QUESTION, CALL US AT
+ 1 916-688-8766