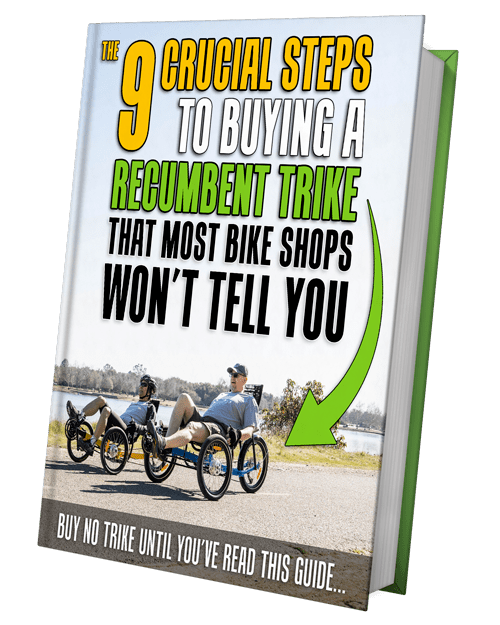 FREE TRIKE BUYING GUIDE
This Buying Guide Will Help You:
- Better understand the trike buying process
- Know the essential steps to choose a recumbent trike
- Discover the different benefits and features
- Decide on the right model for you
- Have confidence in your next steps
More About Recumbent Trike Accessories
Choosing the right recumbent trike for you will make your riding sessions far more enjoyable but choosing the right accessories for recumbent trikes can take your experience to an entirely new level. There is a wide range of different trike accessories that can make your experience safer and more comfortable and make your trike easier to operate. The whole point of getting into the recumbent tricycle lifestyle is to be able to be out in the world experiencing life while being active and comfortable, and every recumbent trike accessory you use that makes that easier to accomplish is a wise investment.

Some of the most useful accessories for recumbent trikes include water bottle holders, safety flags, phone holders, front or rear light mounts, mirrors, speedometers, seat bags for tools and other items, or a trike rack so you can bring your trike along wherever you go. Recumbent trike accessories aren't mandatory, but as you can see, they can make your rides far more comfortable and enjoyable. You may decide on just one recumbent trike accessory when you first get started and then add as you go, or you may want to add a handful of recumbent trike accessories right from the get-go. The key is to choose accessories for recumbent trikes that are going to make your experience safer and more enjoyable, which is the whole point.