TerraTrike Charge

Take charge and harness the potential of electric assist without sacrificing quality or your wallet.

Delivery throughout California

Rider's Choice

Free Test Ride
If you've become recumbent trike "e-curious" you're not alone. The temptation to have a little added push or an easier ride is becoming harder to resist for a lot of our recumbent trike customers. The challenge many riders face, however, is the price tag that comes along with that boost. 

But guess what? The TerraTrike Charge is offering what they're dubbing "Amplitude for All." What that basically means is you can take "Charge" of your ride by harnessing an affordable electric assist that doesn't make you feel a little light in the old wallet. Here we look at the TerraTrike Charge in all its glory, exploring the good, the bad and the ugly of this rare e-trike opportunity.
The Specs
We'll start here because it's the basics of what the Charge offers. This trike is all about that boost of power that allows you to go further faster. The smooth and trusted Promovec e-bike system and comfortable, sturdy hi-ten steel frame are combined with an adaptive drivetrain and smooth 20" tires for a very solid ride. With this perfect balance of features, you are set to unlock a world of new exploration without breaking the bank. We're looking at an entry-level e-trike for under 3,500 clams. For that, you get:
A top-level user experience

Trusted Promovec 50750BL rear hub motor

Dynamic Center Connect controller

DT2 battery

The best-in-class TerraTrike comfort seat mesh
You can also accessorize with top-selling accessories to improve your riding experience, including:
Seat Pads (regular and wide)

VersaBars

Comfort Pedal Conversion Kits

Heel Support Pedals w/straps

Head Rests
Our team can help you fit your ride with the features ideal for you.
Doing It Right
TerraTrike wanted to even the playing field in the e-trike category by bringing prices down without sacrificing experience. They did things right, ensuring the Charge stood up to the other e-trikes they offer but at a more accessible price point. Electrical is huge right now, increasing demand without enough affordable options to meet it. The Charge allows people to get into that e-trike class at a better price taking the average rider's needs into account. TerraTrike's solution was to take the features of their top sellers and add electric to the list to create a well-rounded trike that would appeal to people with modest budgets. They shopped around for electric systems that offered power without the sticker shock and landed on the Promovec system from Denmark. 
Along with the right controller system, the rear hub motor offers a nice boost so you can experience that enhanced power whether you're tired and want to cruise or want to pick up your speed. Although it's not a throttle, it's the next best thing, using sensors at the front of the trike to sense revolutions. You hit the boost if you've slowed down either due to a lack of personal steam or you're facing something more challenging in your path, like a hill. The boost gives you that added oomph to get where you're going.
Control Options
The Charge offers many control options with a beautiful color display that's easy to see from your seat. It has a good mounting system, and the display is solid, so it doesn't mess with your eyes. The controls allow you to go into five levels of assist from a modest eco mode up to level five for a 20% to 30% boost. 
You can slowly ramp up to safely reach your desired level. In speed mode, your power level is at full tilt. But what we love about it, and a major reason we refer to the Charge as a good starter e-trike is that if you only want to go 10 miles an hour the trike will get you up to 10 and then keep you there. You can set it for different levels, so you never go faster or slower than you want.
Hub Motors
With so many motors out there, Terra-Trike wanted to avoid a mismatch between their product and the power source. It's not uncommon to see motors designed for bikes on trikes which creates a bit of a disconnect. TerraTrike made sure they chose the right motor, which is why they went with the Promovec 50750BL rear hub motor. Hub motors offer a pleasant riding experience without becoming too intrusive or aggressive. 
The Charge was designed for an overall better experience with the motor not intended to be the focal point of its features. The motor is quiet and nimble but doesn't create a jolt either from too much power or too much noise. The Charge is big on a smooth entrance into power that doesn't stand up to the supersonic high-end experience of, say a Bosch system but still provides an enhancement that reduces your effort and helps you get where you need to go.
Fun, Comfortable Ride
All in all, if your budget has kept you from purchasing an e-trike, the Charge is a fun ride with the bells and whistles of a standard TerraTrike and an added boost of support. For under 3500 bucks, you're not going to find a better electronic trike right now, although the competition is sure to catch on that the affordable e-trike is a surefire hit.
Honestly, the only setback to the Charge is that if you have ridden faster, higher-end e-bikes with a focus on power instead of the overall ride experience, you're going to be itching for that extra speed. In fact, we'd advise anyone who hasn't test-ridden an e-trike yet but is considering the Charge to steer clear of Bosch motors for now. Just like a wine novice spoils their budget-friendly palette with their first taste of fine wine, a test drive on a Bosch for your virgin e-trike voyage will spoil any other experience for you.
We invite you to drop by Laid Back Cycles to test ride the Charge. We can help you ease into the e-trike experience and discover how just a little boost of power can make a huge difference to your ride.
Description from TerraTrike:
Take charge and harness the potential of electric assist without sacrificing quality or your wallet. Featuring the smooth & trusted Promovec e-bike system, a comfortable & sturdy hi-ten steel frame, an adaptive drivetrain, and smooth 20" tires. Unlock a world of new exploration at a budget-friendly price with the TerraTrike Charge.
Amplitude for All: New to the TerraTrike lineup is the Charge, an entry-level e-trike delivering a top-level user experience. Featuring the trusted Promovec 50750BL rear hub motor, dynamic Center Connect controller, DT2 battery,  and the beloved TerraTrike comfort seat mesh, the Charge is here to meet the demand of electric assist for the entry-level rider.
Trikes can be delivered throughout California. Accessories can be shipped nationwide.

Our goal is to make your trike buying process as simple and easy as possible. To order a recumbent trike, please call us. If you are ordering a trike by phone, please see the fitting instructions so you can give us your measurements.

Don't hesitate to send a message, email, or give us a call if you have any questions. Check out our Frequently Asked Questions page for the common questions our customers have.
Inquire for this product
Enter your details below and we will give you a call to help you with your perfect recumbent trike.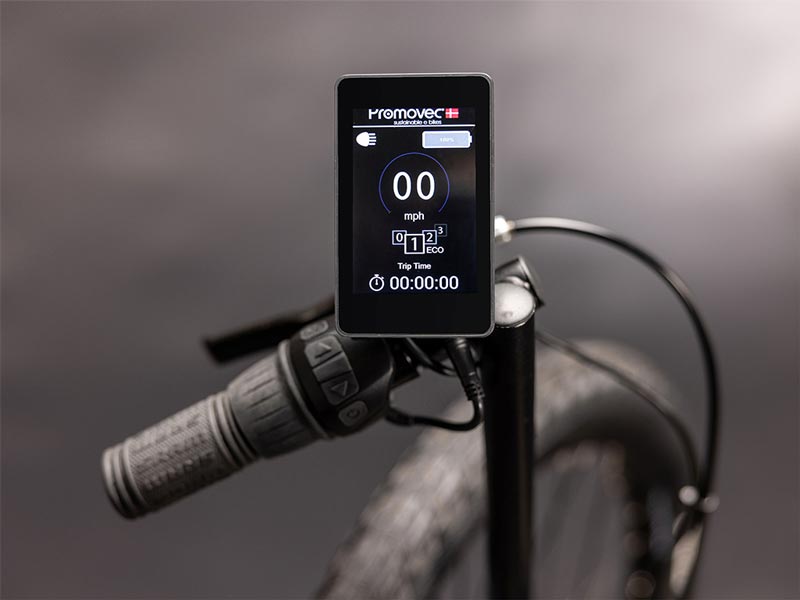 Center Connect Controller
The easy-to-use large color display makes controlling your ride easier than ever.
50750-BL Rear Motor
At 43Nm of torque, the Promovec rear hub motor delivers smooth & reliable performance.