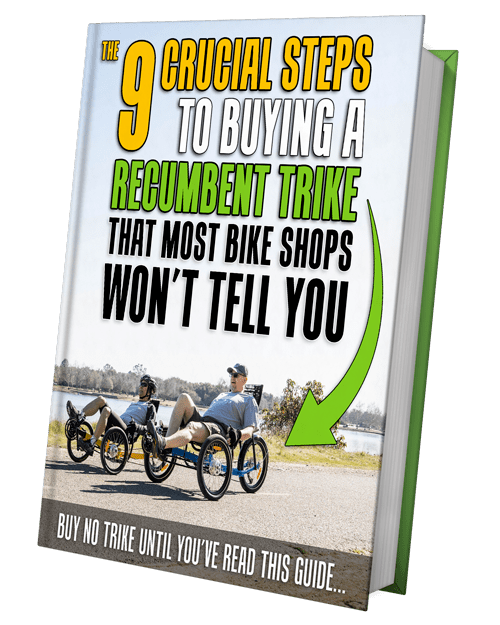 FREE TRIKE BUYING GUIDE
This Buying Guide Will Help You:
- Better understand the trike buying process
- Know the essential steps to choose a recumbent trike
- Discover the different benefits and features
- Decide on the right model for you
- Have confidence in your next steps
More About Recumbent Trikes
A recumbent trike is a three-wheel bike with a laid-back seat, designed for adults to get a comfortable ride while offering a range of special benefits. Unlike a standard two-wheel bicycle, a recumbent tricycle allows you to sit back in comfort, with your entire back supported which alleviates many issues associated with riding a standard two-wheel bike. Due to the third wheel and its configuration, a recumbent trike offers greater balance which makes them ideal for anyone that may have issues staying upright on a two-wheel bike.

Recumbent tricycles have also been shown to reduce joint pain, lessen back pain, offer strong lumbar support, all while boosting cardiovascular fitness, strengthening muscles, and burning calories. This makes a recumbent trike ideal for people with arthritis and similar conditions, as it enables them to stay comfortable while still getting out into the world and exploring. The stability of recumbent tricycles adds a level of safety that is often lost as riders get older. Since they are almost impossible to tip, the likelihood of injury is greatly diminished which gives many adults the confidence they need to get out on the trails and roads and stay active.

If you love the sense of freedom and exercise benefits that cycling offers, but you no longer feel safe or supported on a standard two-wheel bike, a recumbent trike may be exactly what you've been looking for. You're in for a whole new experience when you sit down on the comfortable seat of a recumbent tricycle and begin your first journey. There's no question that a recumbent trike is an investment in your fitness, your future, and your quality of life.